Hi,
Halloween is my favorite holiday, which is probably why my paranormal erotic romances are full of witches and ghosts galore. I love the potential for passion like no mortal could know it, the magic, and the spooky quality of the otherworld. Since Halloween is coming up fast, I wanted to share a little bit about each of my spooky, magical books. All of them are available at
Loose Id
.
Fighting the Undertow
Coming November 4 from Loose Id!!!

/p>

My most recent novel, Fighting the Undertow, is coming November 4th from Loose Id, so the spirit of Halloween doesn't have to end right after the 31st! In Undertow, Val and Ian struggle to come to terms with a troubled ghost and the secrets of Ian's past. Oh--and of course, Ian's group of too-sexy-for-their-own-good friends complicate the romance in kinky and delightful ways.

Blurb: When the New England riptide sweeps Val into Ian's path, she's pulled into the vortex of passion he shares with his friends. But as Ian struggles with the ghosts of his past -- literally -- Val's not sure there's a place for her in his sexy, turbulent world.


Strange Sabbats
Available Now


A prequel to
Nature's Pentacle
, this novella is set in the same world as my Pentacle Series, but stands alone. Because it takes place before the action in the other books in the series, the tone is lighter and more playful. These witches aren't battling the forces of darkness; they're struggling to sort out love lives vastly complicated by magic, power, and witches' intense passion.
Blurb: For Aileen, Bryan, and Sylvie, three witches related by blood and common circumstances, finding the men of their dreams is a supernatural ride through love, jealousy, kink with a touch of magic, and fierce, red hot sex.
Nature's Pentacle
Available Now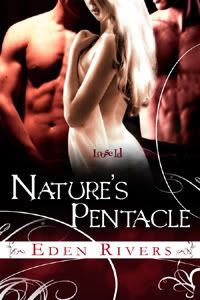 Nature's Pentacle
is the first book in my Pentacle Series, and you won't want to miss the passionate magic these witches brew up! Lena and Matt meet at a forbidden sexual rite, and when crazed vigilantes and a vicious villain set them on a headlong path with disaster, they cling to each other for love and support. But Matt's former love interest, Kenji, refuses to bow out of the picture.
Blurb: When witches use sexual energy in a rite to mend the shattered environment, the forces set in motion carry them into a vortex of loss, a sizzling ménage, and finally, to the love they never imagined they'd find.
Broken Pentacle
is the second book in my Pentacle Series, and can be read as a stand-alone novel. This one is by far my darkest story, and the villain produces some hair-raising scenes for a truly supernatural Halloween season. Sky and Alec are two of my favorite characters because they've made mistakes, have been hurt horribly in the past, and they do a phenomenal amount of healing together. The magic they kick up with Zach, a no nonsense ex-cop who turns their twosome into a threesome, is both touching and deeply emotional--and wildly erotic.
Blurb: A brutal attack left Sky wounded body and spirit. Her body's recovered but her soul and her magic need healing before she can face her ex. The cure lies in sexual bonding with another witch. She's not expecting two.
Again, all of these are available at
Loose Id
, although you'll have to wait till November 4th for
Fighting the Undertow
. May your Halloween be full of chills, thrills, and red hot romance!
Eden
www.edenrivers.com