Some of you may remember Johnny Loves Krissy.
This story was originally contracted with Triskelion Publishing. After spending about a week on their website for sale, the company went into bankruptcy and Johnny Loves Krissy went onto my "never to be published" shelf.
Only JLK wouldn't stay on the shelf. this story has a deeper meaning for me. I wrote the story for my sister and wanted to see it available again. So after a complete rewrite, with heavy revision, the story is once again available in both print and e-book.
This also represents the last of my stories that were once wrapped up in the bankruptcy hell of Triskelion Publishing. The others have all found homes. Delicious Darkness is at the Wild Rose Press. And The Cougar and the Best Man became Impulsive Pleasures and is also with Ellora's Cave.
So about Johnny Loves Krissy... (adult excerpt)
Johnny Loves Krissy
Copyright KyAnn Waters
All Rights Reserved, The Wild Rose Press
Erotic Contemporary
The Wilder Roses
e-book novel $6.00
rated double rose
To Purchase
http://www.thewildrosepress.com/wilderroses/index.php?main_page=product_info&cPath=182&products_id=770
Blurb:
Kristina Taylor's biological clock just went off. She has

endometriosis

. Now "who's your baby's daddy" just took on a completely new meaning. A brilliant plan for conception includes her hot best friend Johnny

Knock her up? Krissy has to be crazy. Or is she? Johnny has loved her since high school. Her plan might not include life after baby. His does. But how is he going to show her how good they can be together with all her rules--no kissing, no touching, no caressing. He can make love to her, but she's determined not to enjoy it. To hell with that and to hell with her rules. He's determined to show her friendship is the best foundation for a relationship.

But there are always complications. ..

With Johnny, Krissy is afraid to look to the future. Right now, she can't get enough of the present, and she dreads the thought of losing what she's had with him in the past. Huston. Taking him to bed won't be a hardship--if she can only get him to play by her rules. After all, she wants to maintain their friendship. Not easy if he ends up being the best sex of her life.
Excerpt:
"Our baby," she whispered with awe and wonder discernable in her voice. "Is this really happening?"
Her eyes filled with tears. Johnny set the frying pan on the stove and pulled her out of the kitchen chair and into his arms. "Scary when it finally becomes real, isn't it?" He stroked her back. He felt her head nod against his chest. Then she went rigid and pushed against him. "What?"
"We have bigger problems." She took two retreating steps. "The when, where and how."
"Pardon me?"
"I don't want some magical date etched into my mind reminding me of the day we conceived our baby. Where are we actually going to have sex? Not my bed. I'm not going to remember us every time I crawl beneath the covers. Not your bed either. I don't want you thinking about me when you go to sleep."
Good thing she wasn't in his head. He'd already taken her to his bed hundreds of times. In his dreams. "The where won't matter. You and I both know we'll never forget."
"As for the when, I'm ready when you are." Krissy put her hands on her hips. "Actually, I should rephrase that. I'll be ready after you make breakfast and we eat. If we can decide where, then we can do it tonight. We just need to think of sex as the first step in a series of steps to reach the desired conclusion of having a baby."
As if he could just forget he'd be making love while Krissy only thought of their being together as a means to an end. "At least we don't need to discuss the how."
"Actually, I think we do."
Johnny nearly crushed the egg he was holding in his hand instead of cracking it into the frying pan. He looked over his shoulder and cocked an eyebrow. Krissy sat at the table again with a serious look on her face, not a trace of humor in the straight line of her mouth. "I'm capable."
She rolled her eyes. "We both know what happens in relationships when one falls hard and not the other. That can't happen to us. So we need rules about the how." She held up one finger. "No kissing. That includes oral. I'm not sucking your dick."
"What if I need help getting an erection? You won't be my fluff girl?"
She pursed her lips. "I'll get you a Viagra."
Her mouth turned up on the left and he weakened. "Okay, let me hear the rest of your rules."
"No caressing. I know you're an ass man. Mine is off limits. No touching outside of what is absolutely necessary. No grabbing hair."
"Are your tits off limits, too?"
Her eyes narrowed. "Yes."
Laughter rolled from deep within his chest. Unbelievable. His dreams had come true and then morphed into his worst nightmare. He could make love to Krissy, but by god, he wasn't allowed to enjoy it.
"If you make me come, I'll clobber you the minute you get off of me. I don't want you to be good."
Did she read minds now? "I can't control whether it's good or not."
"Yes, you can! Just get on, come, and get off. Hopefully, we'll only have to fuck once."
"Do I get to enjoy myself at all or is that against the rules as well?" Johnny flipped the eggs in the pan, then snatched the bread off the top of the refrigerator. He needed to calm down. Krissy's unrealistic ideal situation was a long way from his.
"Of course." She stood and poured them coffee. "You have to enjoy sex in order to reach orgasm. How else am I going to get pregnant? Coming is ejaculation. I don't suppose you're a premature ejaculator. The faster the better."
Erotic Romance Author


www.KyAnnWaters. com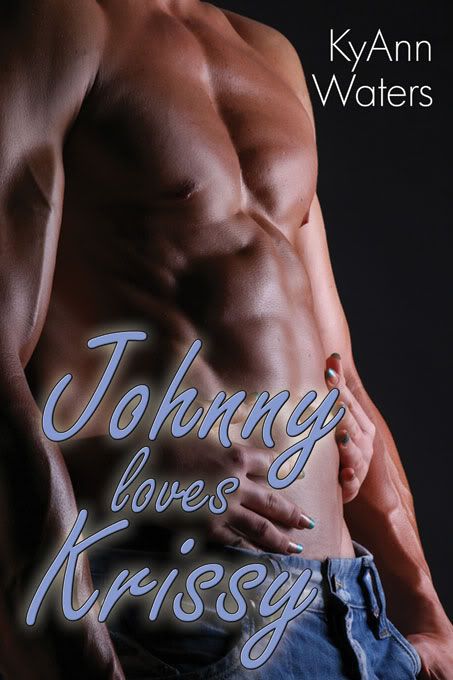 Anyone who leaves a comment will be entered into a drawing for a digital copy of any of my back list titles available through the Wild Rose Press. Delicious Darkness, Hot Blooded, Executive Positions, Tie Me Up Tie Me Down, The Cougar Meets Her Master, and there you can also grab my free read Twisted Sex and Happenstance. Be sure to leave a way to contact you should your name be drawn as the winner.